Historical Restoration/Commercial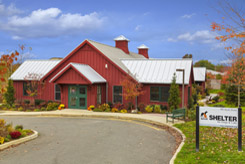 In 2005, the firm designed an 1,800 square foot dog and cat shelter for the Ridgefield Operation for Animal Rescue. The design was so well received by the community that in 2010 we designed an addition to the facility, doubling its original size and providing a training room for pets and their owners. The enlarged facility was completed in 2011.
Contractor: Kenosia Construction
Photographer: Barry A. Hyman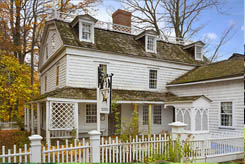 The Keeler Tavern Museum Complex, which is on the National Register of Historic Places, consists of the Main Museum building, constructed as a home and tavern in 1713 and later purchased by the architect Cass Gilbert in 1907. Gilbert also built two additional structures on the site, a Garden House and a Carriage Barn, both of which are used as support facilities today. Through the years, our firm has inventoried and provided cyclical inspection reports of the museum structures for planning and implementation of restoration work.
In 2006 the firm oversaw the restoration of the Cass Gilbert Carriage House on the site after extensive rot and insect damage was found. The restored building now is available for active, year-round use for children's programs, art shows, exhibitions and fundraisers.
In 2011 we produced documents for the preservation and rehabilitation of the classical piazza of the Cass Gilbert designed Garden House. The piazza's delicately proportioned wood posts, wooden spandrels, scalloped cornice and simple balustrading were all restored to their original beauty. In 2016 a new wrought iron railing at the raised terrace was designed and constructed with detailing echoing the Garden House rooftop balustrading.
Currently, the firm is working with the Keeler Tavern to integrate the newly acquired Cass Gilbert Jr. Library on the adjacent property into the museum complex as a Visitor Center and administrative building. The brick Library was designed by Cass Gilbert Jr. as a repository for his father's papers in 1936, two years after his father's death.
Photographer: Barry A. Hyman